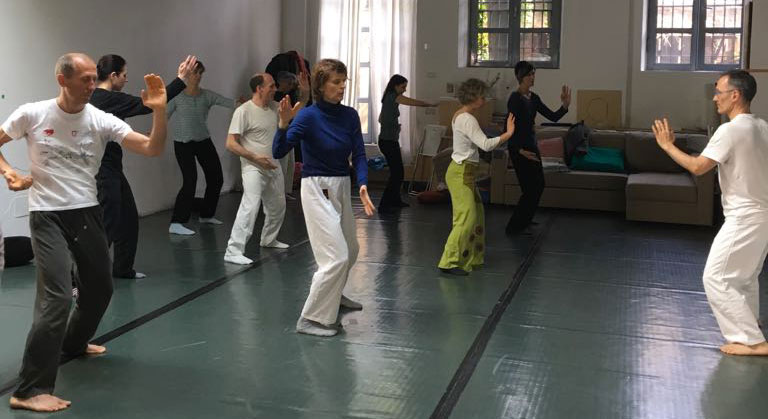 Qigong brings well-being to your employees and improves their performance.
Do you want a mindful, relaxing and ergonomic activity during a training day or a particular event in your company? Or do you want staff in good shape, improved alertness, and with better stress management? Multiple studies show that investing in the well-being of your staff and employees pays off consistently in the form of improved efficiency, focus and results.
Qi Gong offers effective and beneficial tools for the balance and development of each individual, and thereby for the success of your entire company.
What I offer with Qigong is:
– Exercises that increase energy and focus, allowing you to get the most out of your presence at work.
– A moment of pause that allows you to recharge your batteries after too much mental effort.
– The application of ancestral techniques which act on the flexibility and availability of your body.
– An approach to ergonomics by working on posture and body awareness
My suggestion in a few points would be:
– A 40-minute "test" to get an idea of ​​Qigong. (Free intervention)
– A Qi Gong Workshop during a conference, a kick-off or simply during a working day. 45 – 60 minutes (230 euros)
– A Qi Gong course – A little more complete than a Workshop.
 Example: 3 hours or 2 days to 2 hours (600 euros)
Weekly training in Qi Gong - At the workplace.
Example: 10 weeks with one course per week (also shorter / longer). 30-60 min.
(for 30mn x 10 sessions: 1800 Euros),
(for 60 mn x 10 sessions: 2200 Euros)
Individual Qi Gong sessions
Normally 45 min / session. Select the number of times. 60 euros / session.
All these options are to be considered separately or in combination.
To implement these sessions I need a spacious room with the possibility of opening to the outside or a terrace.
The recommended outfit should be flexible and light. The shoes too. You can also practice barefoot.
Participants should provide a hot or lukewarm drink and the cold should be avoided.
For any questions, I am at your disposal.